Read Time:
3 Minute, 7 Second
A year ago as she prepared for her freshman year at Texas A&M, Serena Brown shattered Lavern Eve's 26-year-old national discus record. This year as her collegiate career swings into high gear, Brown increased her new mark.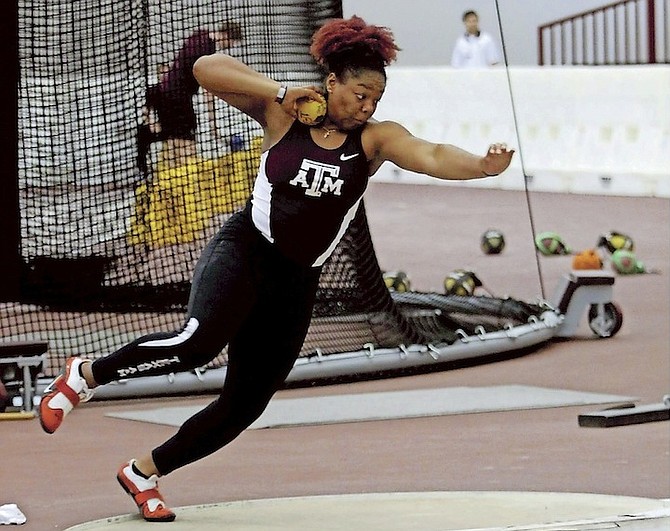 Photo: copyright
Brown, who had erased Eve's previous record of 52.52 metres or 172-feet, 3-inches that she set in Houston, Texas in 1990, beat her new mark of 52.73m (173-0) that she set in July at the IAAF World Junior Championships by posting a toss of 53.13m (174-4) at the Roadrunner Invitational on Saturday.
The mark was good enough for second place at the Park West Athletics Complex in San Antonio, Texas, behind Cion Hicks of Baylor, who won with a heave of 53.83m (176-7). But Brown said it was all about improving on her performances every time she competes.
"I felt the performance was good. I felt very good about it. I'm getting more consistent," Brown told The Tribune. "I'm expecting more, but I know I will only get better as the season progresses."
It was just Brown's second outdoor meet for the season, coming off her collegiate debut last week when she pulled off another second place finish with 51.10m (167-8).
"I'm not thinking about it as much as I'm thinking about getting better and better," said Brown about the record-breaking feat. "I'm just focusing on getting better. "I'm honoured to be the record holder, but I am focusing on getting much better right now because I feel I have so much more inside of me."
This year, Brown said her goals are to become the Southeastern Conference champion when they compete May 11-13 at the Weems Baskin Track in Colombia, South Carolina.
But, of course, she wants to be an All-American by making the final of the NCAA Outdoor Championships June 7-10 at the Hayward Field in Eugene, Oregon.
Of course, before she can get there, Brown would have to qualify through the NCAA West Preliminary Rounds that will take place from May 25-27 at the Mike Myers Stadium in Austin, Texas.
If she plays her card right, Brown said she would ultimately like to compete at the IAAF World Championships in London, England from August 4-13. In order to achieve that feat, she will have to surpass the qualifying standard of 61.20m (200-9). If she doesn't, Brown said she would still have the rest of her career to compete at the biggest stage of the sport.
"Making World Championships would be great, but I won't be disappointed if I don't make it," said Brown, Sonja, who thanked her mom, and her family and friends for continuing to support her as she represents the Bahamas.
Gaithers Makes Pro Debut
Olympian Ty'Nia Gaither, making her pro debut after she completed her eligibility at the University of Southern California last year, opened up with a win in the women's 200m at the Pierre View A&M Relays in Pierre View, Texas.
On Saturday, Gaither won her heat in the fastest time final of 23.17 seconds, beating out another pro athlete in Olivia Ekpone, who did 23.69.
Gaither competed for the Bahamas in the women's 100 and 200m in Rio de Janeiro, Brazil at the 2016 Olympic Games. She's preparing to come home to run at the IAAF World Relays April 22-23 at the Thomas A. Robinson National Stadium and at the IAAF World Championships in London, England, August 4-13.
By BRENT STUBBS
Senior Sports Reporter
bstubbs@tribunemedia.net
http://www.tribune242.com/