Read Time:
3 Minute, 9 Second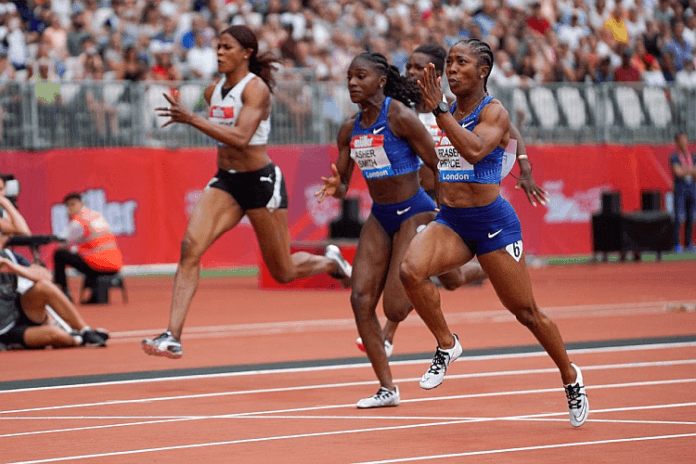 Photo: Copyright
Jamaicans Shelly-Ann Fraser-Pryce, Rushell Clayton and Akeem Bloomfield were winners at Sunday's (21 Jul) London Diamond League.
Fraser-Pryce, who continues to prove she is one of the favourites for gold in Doha, ran 10.78 to beat a strong women's 100m field. Dina Asher-Smith (GER) finished second in 10.92 and Marie-Josee Ta Lou, 10.98 for third.
Fraser-Pryce said: "I was really happy to come away with a win."
"It's a long season, and I've been training and training. To come out here and run 10.78 is a fabulous time.
"The aim is to make sure when I get to Doha that I'm on point. Right now the females are so close in terms of time so you definitely just have to come out and make sure that you're ready to run.
Fraser-Pryce ran 10.95 in the heats to qualify while Shashalee Forbes, 11.35, Jonielle Smith, 11.38 and Natasha Morrison, 11.43 failed to make the final.
Bloomfield's victory came in the men's 400m, a season-best run of 44.40secs, beat a fairly good field. Jonathan Jones ran 44.63 for a new Barbadian record for second place.
"It went pretty good. I think I executed the race okay. I got a pretty good time, so I'm happy right now.
"I'm looking forward to my next race. As the season progresses, I just want to get better and better, and I'm really excited right now," said Bloomfield.
Two other Jamaicans, Nathon Allen, 44.85 and Demish Gaye, 45.11, were 3rd and 7th respectively.
Clayton topped the women's 400m hurdles in a personal best 54.16s. Fellow Jamaican Janievve Russell was 5th in 55.14.
"It feels great to come here in my second Diamond League and win in a field of very talented ladies, it's awesome," said Clayton.
"I never came here expecting to win; I just came here to execute my race. As long as you execute your race on the day, you will get to where you want to be, and I did just that, and I ended up winning with a personal best.
"I was just in my zone, saying "Rushell, please execute, please execute" and I did just that. To do it here in London makes it even better."
Fedrick Dacres threw 67.09m for second in the men's discus. Daniel Stahl (SWE) won the event with 68.56m.
"Not thrilled with my overall result distance-wise," said Dacres.
"I felt like I had a lot more in me. I couldn't run up as hard as I would have perhaps desired; however, I felt I rotated well to get over 67m, and that was obviously good enough for second place," he added.
Omar McLeod with 13.32 finished 3rd in the men's 110m hurdles. Xie Wenjun of China won the event in 13.28; the same time was given to Wilhem Belocian of France
McLeod said: "I kind of messed up off the first false start, I didn't regroup as well. The first run I got out better, this one I got out to the first hurdle and stumbled. I had to recover and kind of run back, I just didn't catch up in time. My second half of the race was really good; I just need to make sure that I perfect the first part, no matter what.
Tissanna Hickling, 6.53m, finished 6th in the women's long jump. Malaika Mihambo (GER) left 7.02m to win.
Natoya Goule, 2:00.51, finished 7th in the women's 800m, won by Lynsey Sharp in 1:58.61.
SOURCE: Track Alerts