Read Time:
6 Minute, 40 Second
Staten Island, NEW YORK – In a span of 15 minutes Sunday at the Toyota USATF Indoor Championships at Ocean Breeze Athletic Complex, young American middle distance talent grabbed the world spotlight with a pair of 600m races for the ages.
Photo: Kirby Lee – Copyright
Donavan Brazier (Cadillac, Michigan) set a stunning world best in the Chocolate Milk Men's 600m, clipping more than a second off the old best with a 1:13.77 that gave him a 1.43 second margin of victory and his second straight U.S. indoor title.
Brazier, who ran 1:45.10 last year in Albuquerque to win the 800m, followed Kameron Jones (San Diego, California) and Kalmon Stokes (Atlanta, Georgia) through a speedy first lap and then took over with just over a lap to go to cross 400m in 48.08. Showing no signs of slowing down over the final 200m, Brazier covered the lap in 25.69 to enter the history books. Sam Ellison (Dorchester, Massachusetts) set his second PR of the meet to place second at 1:15.20 and move to fifth on the all-time U.S. indoor list, while Jones took over the No. 6 slot in third at 1:15.32.
A silver medal in the 800m at last fall's Youth Olympic Games tabbed teenager Athing Mu (Trenton, New Jersey) as an athlete to watch in the future, but that future looks like it already arrived as Mu sprinted to an American indoor best and the second-fastest indoor time in history with a 1:23.57 to take down Alysia Montano's existing American best and win the Michelob Ultra women's 600m.
Mu, 16 until March, led the field from the gun, carrying them through 200m in 25.99 and 400m in 55.03 to set up a run at the record. Staving off 2018 USATF Outdoor 800m silver medalist Raevyn Rogers (Houston, Texas) heading into the final bend, Mu closed in 28.55 and just missed the world best of 1:23.44, set in 2004 by Russia's Olga Kotlyarova.
Olympian Keturah Orji (Athens, Georgia), who owned the American women's indoor triple jump record until February 9 of this year, nearly snatched back the record from Tori Franklin (Oak Park, Illinois) on her first jumps. Orji spanned a meet record 14.55m/47-9 on her opening attempt, missing Franklin's AR by only two centimeters. That mark held up to Franklin's challenge in round five when she went 14.45/47-5, and Orji closed out the competition with a 14.54m/47-8.5 to give her three of the four best jumps in American indoor history.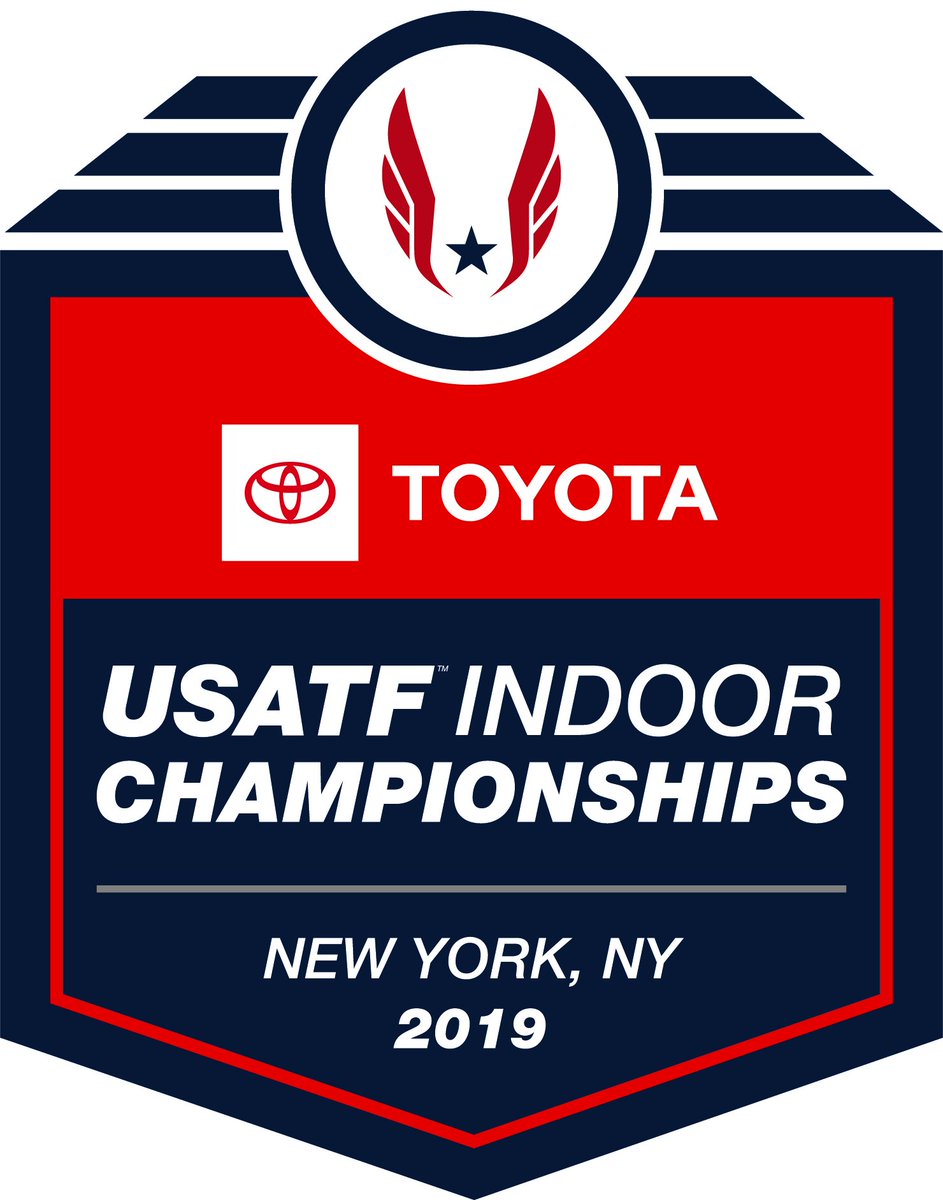 Craig Engels (Portland, Oregon) overcame a pokey early pace to win the Toyota Men's Mile in 3:59.69, covering the final 800m in 1:53 to hold off Henry Wynne (Seattle, Washington) and Johnny Gregorek (Tarrytown, New York). Engels was fourth with four laps remaining and then moved up to take the lead with two to go. Wynne came from seventh to second over that span, clocking 26.17 for the final circuit to finish in 4:00.20, .06 ahead of Gregorek.
Facing track and field's version of fourth down and long yardage in the women's pole vault, reigning champion Katie Nageotte (Moscow, Idaho) sailed over 4.61m/15-1.5 on her third attempt to move atop the rankings and then she added clearances at the next two heights to take gold with a best of 4.81m/15-9.25. Annie Rhodes (Waco, Texas) and Kristen Leland (Grand Rapids, Michigan) both cleared 4.56m/14-11.5 for the other medals, with Rhodes claiming silver based on fewer misses.
Olympic race walker Miranda Melville (Chula Vista, California) triumphed for the first time at USATF Indoors, winning the women's 3,000m race walk in 12:57.58. Melville executed a technically sound race ahead of 50K race walk American record holder Katie Burnett (Bellevue, Washington). Defending champion Maria Michta-Coffey (Farmingville, New York) impressively competed while five months pregnant with her first child and finished fourth in 14:18.82.
USATF Cross Country champion Shelby Houlihan (Portland, Oregon) won her third straight U.S. indoor distance title, dominating the women's two mile in 9:31.38, more than two seconds ahead of runner-up Katie Mackey (Seattle, Washington). Houlihan, who was second in the mile last night, was second through 10 laps and then pushed to the front and traversed the final 800m in just under 2:16 for the win, with Mackey moving past early leader Elinor Purrier (Montgomery Center, Vermont) to cross the line at 9:33.70. Purrier held on for bronze at 9:34.65.
The 2016 NCAA outdoor shot put runner-up for Oklahoma State, Chase Ealey (Chacon, New Mexico) won her first USATF indoor title with an 18.62m/61-1.5 fifth-round throw, leading three Americans over 60 feet on the day. Reigning U.S. Outdoor champ Maggie Ewen (Tempe, Arizona) held the lead after round four on the strength of an 18.45m/60-6.5 effort and ended up second, with Jessica Ramsey's second-stanza put of 18.37m/60-3.25 good for the bronze.
Defending USATF Outdoor triple jump champion Donald Scott (Ypsilanti, Michigan) won his second national indoor title and never trailed in the competition, taking top honors with best of 16.85m/55-3.5 in round four. Two-time indoor gold medalist Chris Carter (Hearne, Texas) came the closest to dethroning Scott with a 16.66m/54-8, and former Florida star KeAndre Bates (El Paso, Texas) garnered bronze with a best of 16.38m/53-9.
Looking for her sixth U.S. indoor gold, Ajee' Wilson (Philadelphia, Pennsylvania) controlled the Xfinity Women's 1,000m from the start, pacing the nine-woman field through 400m in 61.05 and 800m in 2:04.28 before easing away down the final stretch to win in a meet record and world-leading 2:34.71. Hanna Green (Greensburg, Pennsylvania) closed well to grab silver at 2:35.40 and Ce'Aira Brown (Sleepy Hollow, New York) was third at 2:35.62.
Olympic 800m bronze medalist Clayton Murphy (New Paris, Ohio) ran comfortably off Dylan Capwell's (Atlanta, Georgia) shoulder for the first 600m of the Garden of Life Men's 1,000m, and then established his authority with a 54.70 final 400m to win in 2:20.36. Murphy, who set a meet record in 2017, pulled Abraham Alvarado (Smyrna, Georgia) to silver at 2:21.08, with collegiate record-holder Brannon Kidder (Seattle, Washington) third at 2:21.23.
Facing yearly U.S. leader Evonne Britton (El Paso, Texas), Sharika Nelvis (Georgetown, Texas) defended her women's Xfinity 60m hurdles crown with a world-leading 7.85, edging Britton's PR 7.86. Amber Hughes (Atlanta, Georgia) matched her lifetime best in third at 8.06. 2016 Olympic 110m hurdles fifth-placer Devon Allen (Phoenix, Arizona) won his first national indoor title in the men's 60m hurdles, clocking 7.60 to beat Aaron Mallett (Iowa City, Iowa) (7.64) and Josh Thompson (Tickfaw, Louisiana) (7.69).
A pair of promising newcomers dashed to victory in the 60m. Tennessee grad Shania Collins (Parkland, Florida) won the Nike women's 60m in a lifetime best 7.16, .07 ahead of long jump winner Kate Hall (Casco, Maine). Hurdles champ Sharika Nelvis showed her versatility with a bronze medal in 7.32 less than 30 minutes after her win over the barriers. In the Xfinity men's 60m, Demek Kemp (Monroe, Georgia) blasted to the front and captured his first national title in a PR-matching 6.55. Cordero Gray (Arlington, Texas) also notched a lifetime best of 6.59 in second and Sean McLean (Raleigh, North Carolina) was third at 6.63.
Click here for full results.
Source: USATF