Read Time:
2 Minute, 57 Second
Kaiwan Culmer was the lone Bahamian representative in the triple jump at the NCAA Division 1 championships. Coming prepared, proudly holding the Bahamas flag, the University of Nebraska senior went on to finish 9th with a best jump of 16.09 meters.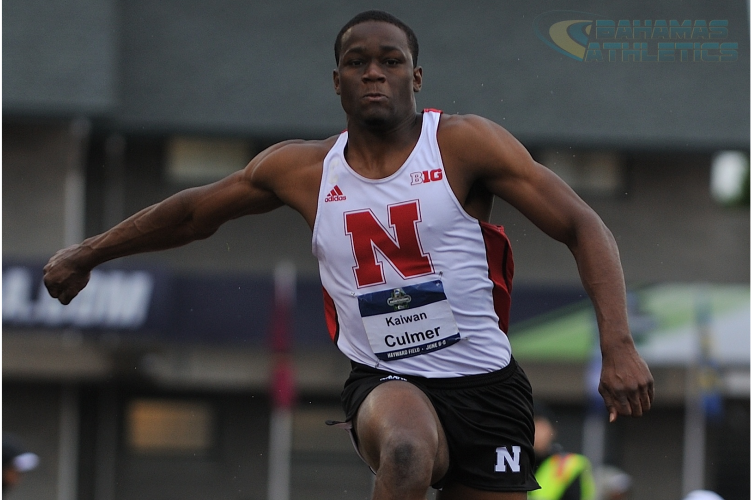 Photo: Copyright
We sat down with Culmer and discussed his experience, his collegiate days and advice to up and coming athletes.
As to what was going through his mind just getting to the championships, Culmer said due to a bad experience he had at regionals last year, he came into this season extra focused and well prepared.
The prepataion paid off with a huge jump of 16.43 meters at the Big Ten Championships. Although he did not win the NCAA, Culmer has his eyes set on the upcoming Bahamas Nationals.
Despite finishing 9th, Culmer was proud of what he accomplished, considering that many of the big jumpers didn't even qualify for the NCAA Division 1 Championships. He admitted the competition was quite stiff.
When looking back at the four seasons as a college track and field athlete, Culmer thanks God. When he started college, he couldn't make it into the top 100, jumping in the 14 meters range with a high of 15.26. Despite having undergone four surgeries, through faith, dedication and hard work, he is consistently in the 16 meter and above range. Culmer believes his time at Nebraska was a stepping stone for bigger things, with his sights set on the Olympics.
A role model to up an coming junior athletes in The Bahamas, Culmer's advice is to stick with it, no matter the troubles. He gives the example of how he made two carifta teams but never made the finals. Of those that made the finals during those two year, he only saw two of them compete in collegiate meets.
Expressing enthusiasm, Culmer wants to help others and is very open about giving advice; already getting questions from those in Jamaica and Barbados for advice. Culmer insists the transition from high school to college is not all that difficult, but athletes must be willing to ask questions and not be afraid of the transition.
With the Nationals coming up, Culmer expects to put his name out there and although he knows the NCAA is tougher than the nationals will be, he still needs to keep focused and prepare hard as usual.
Culmer took time to express his thanks to all in his recent Facebook post:
"Just finished my last meet as a husker. Finished 9th and got Second Team All-American honors. I thank God for the opportunity of competing on such a high level. Finished my career as a 4 time All-American and a 3 time Big Ten Champion. I've been through so much hard times over the past 4 years; went through 5 surgeries and many other injuries. It's only because of God that I am even able to still jump today. I am forever grateful of the University of Nebraska for giving me a chance to pursue a college career and supporting me straight through the way. To my family I love you and thank you for always having my back regardless. And to my lovely fans…this is not the end! Next step to the Bahamas National Championships and many more Big competitions down the road. I LOVE YOU ALL!!"
It appears with such gratitude and continued determination, there are still numerous great track and field moments to come for Kaiwan Culmer.
SOURCE: Bahamas Athletics