Read Time:
2 Minute, 44 Second
With a smooth gait out of the blocks, another powerful "Swift" track star sprinter has taken flight to shake the earth with his speed.
This time, the strong performer is a Queens College, ninth grader, Max Azor, whose aim is to take the qualifying records to another level in the 100 and 200 meter events in preparation for CARIFTA 2017.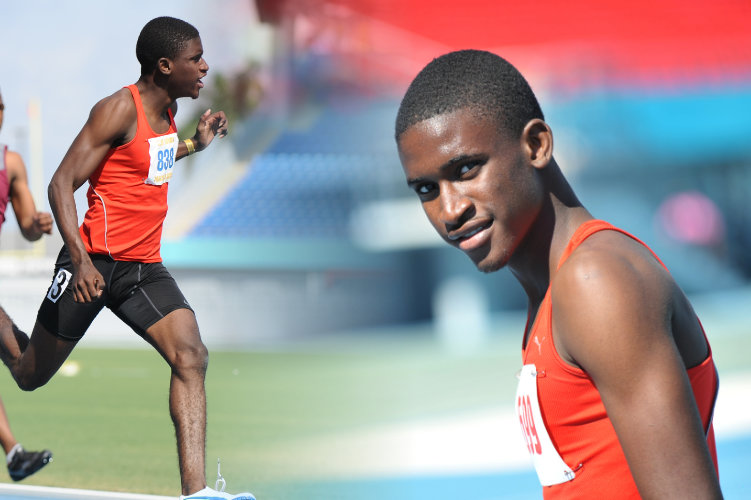 "This is my year to qualify and win the gold medal" said Azor with a serious expression on his face. And despite being tired from other events, Max entered the prelims event for the Boys 100 Meter Dash Under 18 and ran a time of 11.03 to qualify for the CARIFTA Games. Over in the Boys 200 Meter Dash Under 18, Azor clocked a record of 21.75 to lead this event. In the finals for the U18 100 Meter Dash, this athlete of favor, Max, ran a 10.89 record for third spot. An update for the 200 finals lingers in the wind with hopes of clinching this at upcoming events.
Now at the age of 16, Azor's qualifying records were well conceited accomplishments and confirmation that he can achieve his goals and follow his dreams.
During the last weekend events, Max qualified in both events at the 14th, Annual Club Monica Athletics Track & Field Classic, which was held on Saturday, January 28, 2017, under the leadership of Dianne Woodside-Johnson, head coach for Club Monica.
This aspiring two year QC student athlete has great dreams to, not only be number one and represent The Bahamas at CARIFTA, but, Azor plans to attend college and continue his track and field career in becoming a professional athlete. "My career goal is to make the Olympics and see if I could break the present Olympic record" said Max, who will soon be 17.
However, with one minor challenge of getting out of the blocks, he said that "although people can be negative towards me, I keep my head up because I believe that I can do it." However, lingering on the facts of entering college/university, Max is quite certain that "I can do it!"
Former Olympian and Bahamian national record holder in the 200 meters, now head coach for Swift Athletics, Andrew Tynes, said he is quite pleased with Max performances thus far, after qualifying for the 100 and 200 meters; "once he gets his jive together and push out of the blocks, he is well on the way for great things," said Tynes, a 200-meter specialist, who won gold medals at the 1993 Central American and Caribbean Games and the 1993 Central American and Caribbean Championship. Also, this great Bahamian athlete, as a star during his time in college, Tynes dominated the NCAA meets for UTEP.
Knowing that this athlete has great potentials to compete and win in 2016 and, having outperformed many athletes who traveled and competed at last year's CARIFTA, Max missed that opportunity to be part of the team. However, this year, Tynes said he has to qualify and sure enough, Max did it.
However, while there is room for improvement at this stage, this young athlete looks towards breaking records and setting new ones not only for CARIFTA, but at the next 2020 Olympics.
SOURCE www.bahamasathletics.com